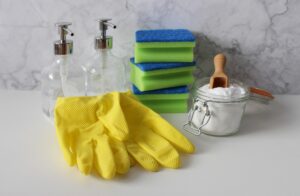 Image by Monfocus from Pixabay
Hiring a housekeeper can free up your time, bring you a sense peace, and make your environment healthier; and when you find that perfect housekeeper, what a relief you'll feel. Choosing the right housekeeper may take a little due diligence on your part but it'll be worth it. After all, this person will be in your home, more than likely while you're not, so you need someone you trust and feel comfortable with. You also want someone who will do a thorough job and take the time needed to do it properly.
Communication is Key – During the initial phone call, ask the right questions. Write them down before hand and take notes as you're speaking. For example, how long have they been in business? Why did they choose this profession? Are they licensed and bonded? Can they offer referrals? Do they charge a flat fee or by the hour? After the phone call, set up an in-person interview so you can meet them face to face. You can learn a lot about someone during an in-person interview. During this time, your prospective company can get a look at your home and be better able to give you an accurate quote and learn what services are most important to you.
Decide on the services you want – Many house-cleaning services are standard, such as vacuuming, moping and sweeping floors, and scrubbing the showers and toilets. With some housekeeping companies, you can negotiate additional services such as doing the dishes or laundry. Other services you might want to arrange on an occasional basis such as cleaning the fridge or oven, light fixtures, or cleaning the surfaces and tops of kitchen cabinets. What about window cleaning? Some housekeeping companies offer indoor and outdoor window cleaning as well as carpet cleaning. Having all of your home cleaning needs met by a single company could prove to be a nice advantage.
Advantage of hiring a large company vs. a privately owned cleaning company – There are a number of independent housekeepers as well as large companies to choose from. The advantage of a big company is that they probably do background checks on their employees. However, these large companies tend to have a high turnover rate and you might get a different crew each week. If you want the same person or crew for each cleaning, you might want to go with a small proprietor. Whichever way you go, make sure they are bonded and insured.
If you're still leery, agree to a trial period – If you've done your homework and feel pretty confident in your decision and you're ready to hire someone, why not start with a trial basis? Schedule a few cleanings to start and see how it goes. Remember, communication is still a must. Let them know what you like and what you don't so they can become adjusted to your needs. If you feel satisfied after the trial period, set up a regular schedule. Whether it's a weekly, bi-weekly or monthly cleaning schedule, now is the time to commit. You'll be glad you did the work so that now you can relax and enjoy the benefits. Don't forget to schedule those extra chores!
Reflections Extreme Clean is a full-service housecleaning company that does it all! From general housekeeping to window and carpets, you can trust us to get the job done right. We are licensed, insured and bonded. In addition, we are an eco-friendly company and use products that are safe for you, your family, your pets and the environment.
Give us a call today at 248-295-1261 or email [email protected]