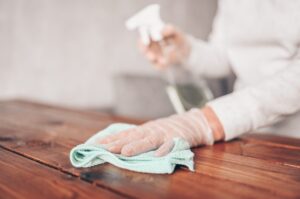 Deep Cleaning Package:
Kitchen:
Clean all Exterior Cabinets and handles, Dusting of all light fixtures, Clean Stove burners;Clean and polish stove top, front and control panels,Clean and dry sink counters; Polish sink and Faucet, Clean & Polish Hood Vent,Clean counters;Backsplash, Light Switches, Door knobs ;outlets, Baseboards, Window Ledges, Empty Trash, Door Frames, Inside of Microwave,Cobwebs, Pictures, Dusting of Table and Chairs, Dust vents, Vacuum; Dust, Mop.
Bathroom:
Buff all Mirrors ; Glass, Towels Neatly Folded and hung, Front of cabinets and handles, Light Fixture, Polish towel Rack ;Toilet paper holder, Clean & Dry Tub and Tile, Empty Trash, Polish and Clean Sink and Faucet, baseboards, Light switches, Door frame, Clean inside and Outside of toilet ; Base, Lid, Fold toilet paper, Dust Vents,Window Ledges, Vacuum ; mop.
Bedrooms: 
Clean and Buff Mirrors, Baseboards, Door Frames, Window Ledges, Cobwebs, Light Fixtures, Ceiling Fans, Dust and Tidy knick knacks, Straighten bed, Dust Nightstands; Lamps, pictures, Empty trash, Dust Vents,Vacuum; Mop.
Common Areas:
Dust Lamps, Pictures, Door Frames, Light switches, baseboards, Window ledges, fold blankets, straighten pillows, Cobwebs, lightly organize items, Door knobs, Vacuum;Mop.